StartUp Plus - See videos of the two events
Date: February 16, 2021 - February 17, 2021

saveEventAsCalendarItemLabel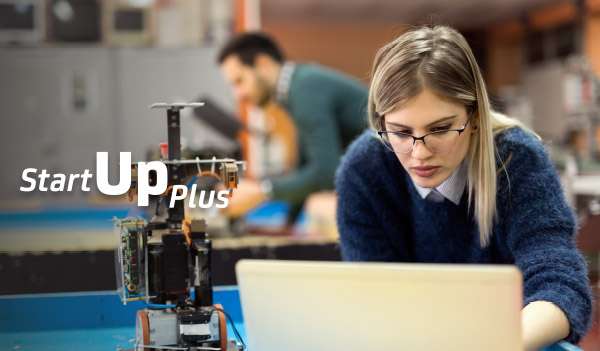 StartUp Plus - the new successful format of "open" webinars dedicated to startups - went online on 16 and 17 February 2021. Eighteen experts and opinion leaders from the world of innovation shared information and reflections with an audience of 1,300 innovators, who connected live from all over Italy.
The outstanding participation by our audience has encouraged us to share recordings of the two-day event and make them available for those who missed it .
In the first of the two webinars (16 February 2021), we talked about virtuous elements and the mistakes to avoid in the development of a startup, dos and don'ts when establishing a new business.
We initially explored the best strategies to adopt when establishing and growing new entrepreneurial projects. We also focused on the importance of ESG criteria and impact financing, and we analysed the most common mistakes to avoid when developing a new venture.
Speakers included:
Andrea Casini - Co-CEO Commercial Banking Italy, UniCredit

Danilo Mazzara - Strategy Advisor e Open Innovation Lead, Accenture Strategy

Marco Nannini - CEO, Impact Hub

Lucia Chierchia - Managing Partner & Head of Phygital Factory, Gellify

Gianfranco Bellezza - CEO e Founder, Golden Bridge Consulting

Francesco Cicione - Founder e Presidente, Entopan
Video 1: StartUp Plus - 16 February 2021 - First Part
The second part of Day 1 shared useful tips to building an effective business plan and how to pitch your project to both clients and investors.
Speakers included:
Francesca Perrone - Head of WEU Start Lab & Development Programs, UniCredit

Giusy Stanziola - UniCredit Start Lab Team

Antonio Perdichizzi - CEO and Founder Tree
Video 2: StartUp Plus - 16 February 2021 - Second Part
Day 2 (17 February 2021) was dedicated to startup financing, tools and opportunities for funding innovative businesses.
We began by exploring the phases of startup investment, from pre-seed to round A, and acknowledged the range of financial instruments dedicated to startups in Europe. We then focused on the selection criteria used by Venture Capital and Business Angels when assessing potential investments in startups.
Speakers included:
Nicola Redi - Managing Partner, Venture Factory

Antonio Carbone - Head of European Affairs, Communication and Studies, Fondazione Enea Tech

Cesare Maifredi - General Partner, 360 Capital Partners

Fausta Pavesio - Startup Advisor and Angel Investor - Venture Partner, StartupWiseGuys
Video 3: StartUp Plus - 17 February 2021 - First Part
In the second part of the day, we analyzed international innovation ecosystems, from USA to Asia passing through Europe. We reflected on the use of the Central Guarantee Fund for startups and the opportunities that UniCredit Start Lab offers to projects entering its platform.
Speakers included:
Andrea Zorzetto - Managing Partner Plug and Play Italia

Francesco Rossi - Partner Levante Capital

Lisa-Marie Fassl - Co-Founder and CEO Female Founders

Fabio Melzani - Capital Light Factory Coordinator, UniCredit

Francesca Perrone - Head of WEU Start Lab & Development Programs, UniCredit

Sabrina Boifava - UniCredit Start Lab Team
Video 4: StartUp Plus - 17 February 2021 - Second Part