DUEDILATTE - Tessuto fatto di Latte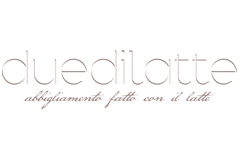 Proposer
Antonella Bellina

Other members
Reference area
North Central
Scope
Fashion&Design
Website

Business Idea
DueDilatte turns the milk coming from the industrial waste into a high quality fabric. Its uniqueness and strong identity come from the extraordinary and innovative fabric obtained from milk Casein. The incredible idea toturn milk into fabric is made possible thanks to the most advanced bioengineering techniques. The milk fiber is obtained through a sustainable and eco-friendly recycling process that starts from industrial milk waste. Casein is extracted and separated from the whey, isolated, denatured and transformed into fiber. The process involves a very low level of chemical compounds and guarantees a significant water and energy saving (less than two liters of water to make one kilogram of milk fiber) and very low CO2 emissions.
The fiber is spun and the thread obtained is transformed into fabric by industrial textile machine. The fabric is purged from raw processing with a washing without detergents and finished (dried) ready for dye, to have its most classic appearance: milk white color. It's possible to personalize fabrics using dyes and prints that are made with pigments that are also of natural origin which create a unique and special color palette.
The milk fabric is completely natural, respects the environment and has extraordinary qualities. Light and soft, it is hypoallergenic and breathable, has a shine appearance and is silky to touch. Thanks to the aminoacids from the milk that remain into the fabric, the milk textile can moisturize the skin. Duedilatte makes different types of fabrics which are ideals for casual-chic men's women's and children's clothing collections. The extremely soft fabric adapts perfectly to the shape of the body like a tender hug. DueDilatte collaborates with leading Italian companies of the textile industry, following each step of the process and taking care of every detail, made by the best suppliers and laboratories of Tuscany, to ensure high quality standards and the philosophy of true Made in Italy

Info that pertains to enterprises and is displayed on this page is not to be read as a solicitation to invest -either directly or indirectly - in said enterprises. Any kind of decision that involves the possibility to be part of the firm's equity is to be read as taken independently from both suggestions and evaluations - either direct or indirect - made by UniCredit.